Tue., Nov. 20, 2012, 8:56 a.m.
School Board Announces Vacancy
School trustees in Coeur d'Alene have set the timeline for appointing a new trustee to fill the Zone 1 seat from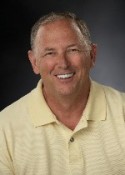 which Jim Purtee (pictured) recently resigned. During a special meeting on Monday, trustees officially declared a vacancy on the school board and said they will accept applications from interested parties until Dec. 12. They will likely interview eligible applicants during a special meeting planned for Dec. 17, and could possibly select someone for appointment during that meeting. "I think the goal would be to have someone in place by the January meeting," said Tom Hamilton, board chair. Purtee announced his resignation last month, to be effective Nov. 15. He cited personal health concerns as the reason for his departure. Purtee was appointed to the Zone 1 seat in April/Maureen Dolan, Coeur d'Alene Press. More here.
Question: Any members of the Reagan Republican Board of Directors live in Purtee's zone?
---
---