Wed., Nov. 21, 2012, 8:43 a.m.
Vestal: Take It Easy On Turkey Day
Sleep in. Stay home. Take the dog for a walk. Read a book. Watch TV. Pick hunks of turkey off the carcass,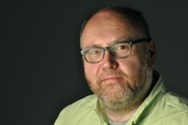 standing in the kitchen in your sock feet, fridge door open. Sleep in. Stay home. Take in a football game. There might be one on. Go crazy with lazy. Or, if you're inflicted with that particular itch, go crazy with activity – run or ride. Break a sweat. Rake leaves if you can't help yourself. Stick a finger into that leftover whipped cream, and then try to cover it up. Read a book to a kid. Try "The Fantastic Mr. Fox." It's a wonderful fable about the corrosive, futile path of obsessively protecting your stuff. Try "How the Grinch Stole Christmas." Remember how and why the Grinch didn't steal Christmas/Shawn Vestal, SR. More here.
Question: What do you plan to do tomorrow?
---
---