Mon., Nov. 26, 2012, 10:24 a.m.
Hoffman: Black Friday Illegal In Idaho
Like many Idahoans, I participated in post-Thanksgiving sales. Though weighted down by turkey and other fixings, I managed to wobble out of the house Thursday night and get our family to fight through the thicket of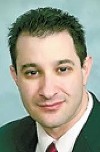 people doing their level best to take advantage of bigger-than-you-can-possibly-imagine discounts. Now, I'm not here to mess up your Thanksgiving tradition of bargain hunting. But I am here to tell you that I, my friends and family, political compatriots and political rivals, all participated in an illegal activity. And I'm OK with that. In 1939, the Idaho Legislature passed a law that remains on the books to this day. It's called the Unfair Sales Act. The law, which has changed little since Depression-era legislators passed it, says, "The practice of selling certain items of merchandise below cost in order to attract patronage is a deceptive form of advertising and an unfair method of competition ..."/Wayne Hoffman, Idaho Freedom Foundation. More here.
Question: Did you take advantage of Black Friday sales?
---
---