Mon., Nov. 26, 2012, 5:17 p.m.
JeanieS: Never On Sunday
I really hate what the holidays have become - so materialistic. Everybody's on a shopping frenzy for Christmas presents today (Black Friday) for items that are almost guaranteed to be put in a yard sale next summer, or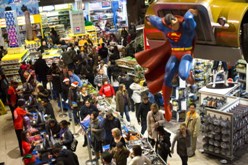 high up in a closet, or deep in the basement - totally forgotten. These items never emit the same energy use when they were purchased. In my lifetime I have seen quiet days with family give way to a frenetic race to nowhere. I remember when stores - all stores - were closed on Sundays. My parents both played the Rule of the House card on Sundays - no other people. No friends. I remember when Easter, Christmas, and Thanksgiving were times set aside for quality family time. There was no Black Friday. It was family time - even though at major holidays, my Mom would be busy in the kitchen and Dad would hunker down to a football game/JeanieSpokane, Community Comment. More here. (AP photo: Shoppers line up at Times Square Toys-R-Us store for Thanksgiving evening sales)
Question: Many complain about the materialism of the Christmas holidays? Have you taken any steps to rein in the materialism?
---
---