Mon., Nov. 26, 2012, 1:59 p.m.
Johnson: Lessons From 'Lincoln'
First the obvious: Steven Spielberg's film Lincoln is a modern masterpiece and just maybe the best film about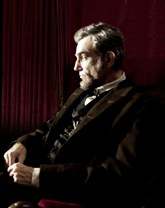 politics ever made. Daniel Day-Lewis once again establishes himself as film's finest living actor. Before Day-Lewis' Lincoln, every film version of the life and accomplishments of our greatest president was a caricature, a cartoon. Now we have a living, breathing, dirty-story telling Lincoln who is both an extraordinary democrat – small "d" – and a tough-as-nails political leader. The Academy should phone it in – this is the best acting you can hope to see this year and an inspiring, even great, movie. One reason Lincoln will have such impact – it's already cleaning up at the box office – is because our current politics seem so small, petty and mean spirited, often for the sake of just being mean. We yearn for leaders with guts and eloquence, men and women willing to put country before career/Marc Johnson, The Johnson Post. More here. (AP/Dreamworks/20th Century Fox photo: Daniel Day-Lewis as Abraham Lincoln)
Question: Do you plan to see Spielberg's "Lincoln"?
---
---