Tue., Nov. 27, 2012, 3:07 p.m.
Caribou Habitat Gets Mixed Reviews
Idaho's congressional delegation is praising the U.S. Fish & Wildlife Service for its final designation of critical habitat for endangered woodland caribou in the Selkirk Mountains, which, instead of the original 375,552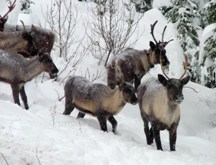 acres, designates just 30,010 acres, only 6,029 of it in Idaho. That Idaho habitat is all on national forest land in Boundary County; no land in Bonner County was included. "I am pleased that the U.S. Fish & Wildlife Service listened to the public outcry regarding the impacts this expanded critical habitat designation would have had upon people's livelihoods," said 1st District Rep. Raul Labrador. "This is an example of the U.S. Fish & Wildlife Service recognizing the need for improved species management and we applaud the efforts of the men and women on the ground in Idaho who made this decision"/Betsy Russell, Eye on Boise. More here. (AP file photo)
Question: Do you agree with decision to designate only 30,010 acres (including 6,029 in Idaho) as critical caribou habitat?
---
---