Tue., Nov. 27, 2012, 1:05 p.m.
GQ Picks Romney As Least Influential
Former GOP presidential candidate Mitt Romney is topping one end-of-the-year list — but we're guessing he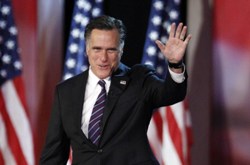 won't be too pleased by this dubious honor. GQ magazine awarded the failed White House contender its number one spot on its "Least Influential People of 2012" list. And the gloves are off in the magazine's description of the ex-Massachusetts governor: the men's glossy mag writes, "Voting for Romney is like hooking up with the last single person at the bar at 4 a.m." And that's not the worst of it: "The only successful thing he did this year was embody every black stand-up comedian's impression of a white person"/Judy Kurtz, In The Know blog, The Hill. More here. (AP file photo)
Question: Who is the least influential political figure in North Idaho?
---
---