Tue., Nov. 27, 2012, 2:55 p.m.
It's Cold, So It's Time For 'Nutcracker'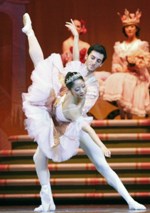 Nearly three decades ago, I took my daughter to audition for that annual holiday extravaganza, "The Nutcracker." Her hair was pulled back into a bun, she was wearing a minimal amount of makeup, and she looked cuter than a ladybug in her tutu and dance shoes. Ah, but she didn't get chosen. I'm pretty sure her disappointment was less than mine, considering that I still remember how, when I picked her up, she so calmly told me the news - and I had to sit next to her as we drove home, wondering how anyone could ever NOT choose someone so cute. Such is the love of a father/Dan Webster, Dually Noted blog. More here. (AP file photo)
Question: How many times have you seen "The Nutcracker"?
---
---