Tue., Nov. 27, 2012, 4:58 p.m.
'Men' Sitcom Star Calls Show 'Filth'
Charlie Sheen has finally lent his expert opinion to the latest Two and a Half Men scandal, this one wrought by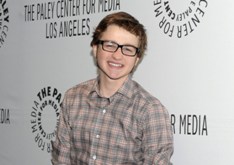 Sheen's former half-pint costar, Angus T. Jones. "With Angus's Hale-Bopp-like meltdown, it is radically clear to me that the show is cursed," Sheen, who knows from meltdowns after being fired in a blaze of glory from the hit sitcom in early 2011, tells E! News. Jones, 19, shocked Men fans and non-fans alike when he showed up in a religious testimonial video calling his show "filth" and urging folks not to watch it/E! More here. (AP file photo of Angus T. Jones)
Question: Is 'filth' an accurate description of "Two and a Half Men"? Or does it better characterize other television shows?
---
---