Tue., Nov. 27, 2012, 8:57 a.m.
Plummer Rekindles Love For Football
On the eve of the N.F.L. season, inside a modest, newly purchased home in East Boulder, Colo., the former Denver Broncos quarterback Jake Plummer (shown in AP file photo with Denver in 2006) mounted a photograph of himself breaking free for a touchdown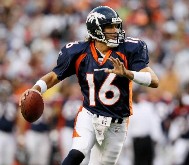 for Arizona State in the Rose Bowl on Jan. 1, 1997. This was a big step. His previous home did not have any signs of his achievements as an athlete. Five years ago, Plummer could not pack up the mementos from his successful college career and his 10 seasons in the N.F.L. quickly enough. Plummer went 39-15 as a starter for the Broncos, but he was benched and then traded the season after taking them to within a game of the Super Bowl. Instead of honoring the trade and taking $5.3 million to play for the Tampa Bay Buccaneers, Plummer retired at 32 and essentially disappeared from public view. A quarterback known for his daring decisions and scrambling abilities, Plummer moved away with his wife, Kollette, a former Broncos cheerleader, to a remote pocket of northern Idaho/Hunter Adkins, New York Times. More here.
DFO: Sounds as though Plummer has moved from Sandpoint back to Colorado.
Question: Did you ever get burned out on something you previously loved?
---
---