Tue., Nov. 27, 2012, 9:20 a.m.
Stebbijo & 4 Days Of Leftovers
Four days of leftovers, and I can say most of it is gone. Thank goodness. Just pile it all up and pour gravy on it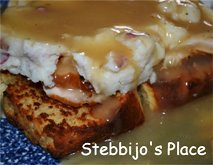 all. The husband used up the dough for the brie to make a nice baked breakfast turkey, cheese, potatoes and egg pastry. The leftover rolls made a nice base for a hot turkey sandwich. I have the dressing in the freezer that I am eventually going to coat again in a cornmeal batter and deep fat fry and cover with portobello mushroom gravy to go with a chicken Parmesan crusted chicken breast. But, right now, I think we have had more than enough turkey day leftovers. Talk about carbohydrate overload. I really should walk around the block. The daughter back in Missouri always has homemade noodles to go on top of their mashed potatoes with gravy. It really is the the season of gluttony and now the baking begins. Have to get those Christmas goodie bags and boxes in order for the kids/Stebbijo, Stebbijo's Place. More here. (Photo: Stebbijo's Place)
Question: How did you deal with Thanksgiving leftovers?
---
---