Wed., Nov. 28, 2012, 9:08 a.m.
Do You Send Xmas Cards, Letters?
Society is divided into three camps when it comes to holiday greetings. There are those who send Christmas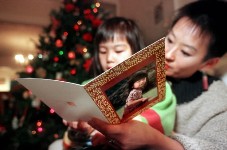 cards, those who send cards with a Christmas letter and those who do neither. For several years I've been a card and Christmas letter sender. The letter doesn't go to everyone on my Christmas card list, just those who actually know the family members whose names are mentioned. I've noticed in recent years that electronic greeting are overtaking the old-fashioned "hand addressed envelope bearing a Christmas design postage stamp, delivered by the post office and arriving in the real mailbox in front of the house" variety. The times they are a changing, as the old saying goes. With millions of people of all ages using social media to stay in touch in real time throughout the year, perhaps the Christmas card and annual letter have become passe. Sigh/Kerri Thoreson, Main Street column, Coeur d'Alene Press. More here. (AP file photo)
Question: Do you send Christmas cards or letters?
---
---