Wed., Nov. 28, 2012, 8:16 a.m.
Dreaming Of $500M Jackpot
It's almost an unthinkable number. A half billion dollars. There are a lot of trips to Cancun via private plane, in all those zeroes. A lot of life-changing charity donations. A nice collection of diamond-studded jet skis. Plenty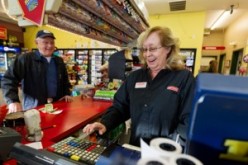 of Kootenai County residents on Tuesday were letting their imaginations fly as they procured $2 tickets for this evening's Powerball drawing. That's because after Monday's surge of ticket sales, the Powerball prize had swelled from $425 million to $500 million on Tuesday, marking the second highest prize in world lottery history. "It's ridiculously high," said Dorothy Blevens, standing in the Fairway Grocery and Gas after purchasing 13 tickets. "My husband called me at work and said, 'Stop on the way home'"/Alecia Warren, Coeur d'Alene Press. More here. (Shawn Gust Coeur d'Alene Press photo: Vera Gilpatrick, cashier at Fairway Gas and Grocery, rings a Powerball ticket sale into her register)
Question: if you won the $500 million lottery, how much of the winnings would you give away? And to whom?
---
---