OrangeTV provides this recycled report re: a second visit to Top of China from several years ago:
Right away, I noticed that the atmosphere had become less intensely surreal since my last visit, which was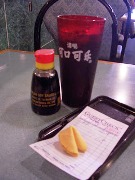 quite a few years ago. I seem to recall dozens of black and white clad hosts and hostesses standing silently at attention amid the gigantic backlit murals of the Great Wall, waiting anxiously for the next person to swallow their final bite of food, so they could swoop in immediately and snatch the dirty plates away. Their faces blank and expressionless, they would emerge from the kitchen like Twilight Zone zombies to replenish the buffet and scan the room for empty soda cups to refill. They'd respond to my repeated attempts at mirth and conversation with nods and chilly stares. These host-bots seem to have dwindled away, replaced by what appears to be a large family unit, who while not exactly warm and fuzzy in demeanor, seem quite a bit more relaxed and unafraid to let the occasional smile cross their faces. More here.
Question: I haven't been to Top of China in years. I've had 4 meals there. One good. Two so-so. One blah. Anyone care to provide a recent review of Top of China?
---
---