Wed., Nov. 28, 2012, 4:59 p.m.
Spiders, Walls, Knuckles Don't Mix
Many people have an irrational fear of spiders -- so irrational that they go to great lengths to get rid of them.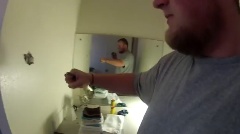 Like a Spokane man, who decided to kill a spider in his bathroom by punching it with a set of brass knuckles. YouTube user bignickbrother4, also known as Nick Runyan, a 2011 Mead High School graduate, posted the video Monday in which he discusses seeing "the most messed up thing" he's ever seen. "I'm moving out of Spokane, not because of a job or anything, but because of spiders," Runyan said. "I found a spider in my bathroom and hands down it's the biggest spider I've ever seen"/Rob Kauder, KXLY. More here. (KXLY photo)
Question: Is there something you fear irrationally?
---
---