Thu., Nov. 29, 2012, 5:01 p.m.
Jingle Bell (Arthritis) Run Set For Park
Something as simple as braiding her daughter's hair can be painful for Ashley Smith, 30. At 18 she was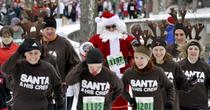 diagnosed with rheumatoid arthritis. "All I could think was, 'Arthritis? That's an old-people's disease,' " recalled Smith. But it's not. In fact, 300,000 children in the U.S. are affected by arthritis. Smith's physician impressed her with the seriousness of the disease. "He said, 'You need to take your medication or you could end up in a wheelchair.' " Harsh words for a teenager to hear. She heeded his advice and diligently took her medicine – even though many of the drugs have unpleasantly debilitating side effects/Cindy Hval, SR. More here. (SR file photo)
Question: Do you -- or anyone you know -- suffer from arthritis?
---
---