Thu., Nov. 29, 2012, 8:57 a.m.
Pet Shooting Investigated
The shot rang out at 8:45 in the morning on Oct. 25 as Collette Bise (pictured) fed her animals. The Bise family owns a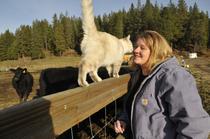 small farm in Newman Lake, and though the land along McCoy Road is privately owned and liberally posted with No Hunting and No Trespassing signs, gunshots are a familiar sound. "There's shots continually out here," Bise said. But this shot worried her. Tibby, the family dog, was off her chain and nowhere in sight. Bise paused in her work and heard her dog yelp. "I heard a second shot and she yelped even louder. Then a third shot. After that – silence. I thought, 'Oh my god, someone just killed my dog' "/Cindy Hval, SR. More here.
Question: Have you ever lost a pet in a violent way?
---
---