Thu., Nov. 29, 2012, 9:37 a.m.
Skiing Atheist Joins Jesus Statue Suit
A lawsuit calling for the removal of a statue of Jesus from a patch of federal land at Whitefish Mountain Resort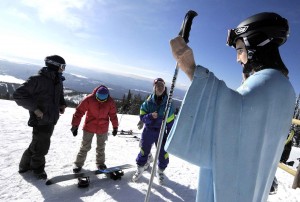 will move forward to trial after a national organization of atheists and agnostics identified a local member and avid skier who regularly encounters the statue on Big Mountain and finds it offensive. The group, the Freedom From Religion Foundation, filed the legal action to get rid of the statue in U.S. District Court in Missoula in February, charging that the religious symbol – a historic icon on Big Mountain – violates the Establishment Clause of the First Amendment to the U.S. Constitution/Tristan Scott, Missoulian. More here. (AP/Missoulian file photo)
Question: Which side of this suit would you be on?
---
---