Thu., Nov. 29, 2012, 8:53 a.m.
Spokane 'Doomsday Prepper' Ready
From an impenetrable gate to under-mattress safes, John Adrain's cliff-side Spokane County manor (don't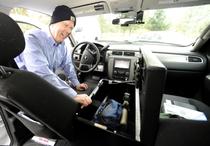 ask where it is or I'll have to kill you) is a survivalist showcase worthy of national TV. No kidding. Adrain (pictured) and his amazing air-filtered abode will be featured on "Doomsday Preppers" next Tuesday night on the National Geographic channel. But as cool as all the fancy gadgetry and security-minded gizmos are, my focus shifted to a more primitive concern when the inventor/entrepreneur practically dared me to shoot his "bear gun" off the back end of his patio. "It's brutal," added Adrain, a gun enthusiast, in a shiver-inducing tone. Oh, well. I've always said I'll do anything once for a story/Doug Clark, SR. More here.
Question: Do you know anyone who is heavy-duty into survivalism?
---
---