Fri., Nov. 30, 2012, 4:13 p.m.
End Is Near, Bayview To Celebrate
December 21, 2012 is the day the world ends according to anthropologists who study Aztec and Mayan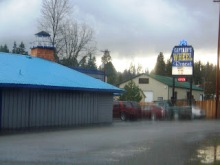 calendars. Now we don't really know whether the world will end on that day or if the Ancients just got tired to extrapolating any further into the future. To take the gamble out of the situation, the Captain's Wheel Resort is holding an end of the world party, Friday, December 21. Just think. You can order an expensive cocktail, or several, a nice dinner, pay for your friend's as well and put it all on your credit card. According to the experts, you will not receive a statement. We at Bayviews are not sure whether that is because of the world ending or the U.S. Postal Service going out of business/Herb Huseland, Bay Views. More here.
Question: Are you planning to interrupt Christmas plans to celebrate the end of the world Dec. 21?
---
---