Fri., Nov. 30, 2012, 8:22 a.m.
Spider Puncher Enjoying Fame
It was the punch seen round the world: 2011 Mead High School grad Nick Runyan is making noise across the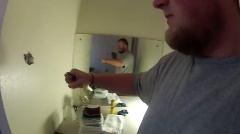 Internet with his now famous brass knuckle spider killing YouTube video. Runyan posted the video Monday night and it already has nearly half a million views. We've all encountered a spider before, but instead of killing the eight-legged creature peacefully, Runyan, 20, got creative. "I just saw the spider and pressed play on my camera and started filming," he explained. The result was a video of Nick vs. the spider. The two-minute clip certainly has turned into Runyan's 15 minutes of fame/Kylee Cruz, KXLY. More here. (KXLY photo)
Question: Describe your 15 minutes of fame.
---
---