North Idaho College Trustees Judy Meyer (pictured) and Mic Armon have won the endorsement of a group of prominent former NIC instructors with 337 years of collective experience, including Tony Stewart, Virginia Johnson and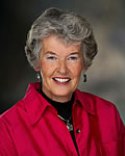 Rolly Williams. In a letter to the local media, the 10 former instructors said of the two incumbents: "Our recommendation is based on our having worked, shoulder-to-shoulder, with students to help them build a successful future. Judy and Mic also work creatively to support the college missions." Meyer is being challenged by Paul Matthews of Rathdrum. Armon will face Todd Banducci of Coeur d'Alene. The county Reagan Republicans have endorsed Matthews and Banducci in these nonpartisan races. The 10 former instructors listed five notable achievements of the two incuments, who are seeking re-election Nov. 6. You can read those achievements and the rest of the letter here.
Question: Do you realize the importance of the nonpartisan North Idaho College trustee elections after watching the turmoil caused by partisan politics in wake of the 2011 Coeur d'Alene School Board election?