MONDAY, OCT. 1, 2012, 9:06 A.M.
Obama Slightly Ahead Before Debate
Five weeks before Election Day and two days before the first presidential debate, a set of new polls shows that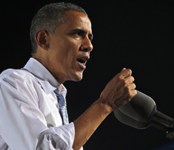 President Obama has a slight two-point edge over Mitt Romney nationally. While both campaigns have tried to lower expectations for their respective candidate's debate performance, it's clear that conservatives expect Romney to use the debate to alter the campaign trajectory. The polls, meanwhile, show that there are also high expectations for Mr. Obama to perform well in the first debate. In a new Washington Post-ABC News poll, Mr. Obama leads Romney among likely voters nationally, 49 percent to 47 percent. The poll shows Mr. Obama with a more comfortable lead in swing states, where he leads among likely voters 52 percent to 41 percent/CBS News. More here. (AP photo)
Question: How do you expect the two major candidates to do in Wednesday's presidential debate?
---
---