Mon., Oct. 1, 2012, 1:14 p.m.
Sherman Alexie Publishes 'Blasphemy'
His is a story familiar to us by now, one that's been fictionalized (loosely) and retold in a National Book Award-winning best seller. A boy is born on an Indian reservation in Eastern Washington and not expected to live. He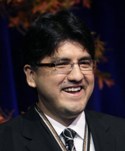 does, only to chafe at the constraints placed upon him by family and tribe. As a teen, he leaves the rez and goes to a white school, where he excels. In college, a creative writing class sparked a career that, 20 years later, has this sickly Indian boy seen as one of the most respected writers of his generation. Sherman Alexie has come a long way from his precarious start in Wellpinit, Wash., on the Spokane Indian Reservation. His words – in the form of poems, short stories, novels and screenplays – have found audiences around the world. And now, two decades after the publication of his first poetry collections, "I Would Steal Horses" and "The Business of Fancydancing," he's coming out with a book that gathers some of his previously published short stories with new works/Carolyn Lamberson, SR. More here.
Question: I've read at least 2 books by Alexie, including "Lone Ranger & Tonto Fistfight in Heaven," watched his "Smoke Signals" and listened to a book of his on tape. Can't remember which. How about you?
---
---