Tue., Oct. 2, 2012, 11:47 a.m.
Luna, Cronin Face Off re: Luna Laws
Betsy Russell is live-blogging the debate between Superintendent Tom Luna and Democratic legislator Brian Cronin today in Boise. Click here.
State Superintendent of Schools Tom Luna is speaking first at today's City Club of Boise forum. "About 30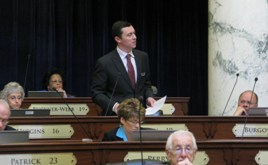 states have passed some form of education reform in the past two years," Luna said. "Education reform in the state of Idaho is absolutely necessary, not because we have bad schools, in fact in the state of Idaho, we have good schools. … But in the world that we live in today, it isn't whether we have good schools, the question is, is good good enough?" Luna said not enough Idaho high school students are furthering their education after high school, and those who do aren't succeeding. "It should be alarming and unacceptable to all," he said. He said that's the focus of his "Students Come First" reforms. "As a result of Students Come First, we now have high academic standards in place," he said. "We didn't have that before
/Betsy Russell, Eye on Boise. More here. (AP file photo: Brian Cronin debates against the Luna Laws during 2011 Legislature)
Question: Do you have your mind made up re: how you're going to vote re: referenda on Luna Laws?
---
---