Tue., Oct. 2, 2012, 3:13 p.m.
Luna Laws: Education On The Cheap?
In a fiery debate Tuesday before a sellout crowd of 450, Idaho state schools chief Tom Luna defended his controversial "Students Come First" school reform laws, while critic Brian Cronin charged they're not reforms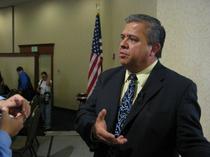 at all, but ways to justify underfunding Idaho schools. Luna dismissed that as a personal attack, and said his plan, which includes technology boosts, laptop computers for all high school students, a new focus on online learning, merit pay bonuses for teachers and rolling back most collective bargaining rights, will help Idaho students succeed in high school and beyond. With technology bringing online courses and other resources to classrooms even in remote areas, Luna said, "Every student has equal access and opportunity no matter where they live in Idaho, and that just didn't exist before." He added, "We accomplished all this without raising anyone's taxes, at any level." Cronin countered, "The Luna laws were a fiscal crisis plan, not a reform plan." He called the reforms a plan for "education on the cheap," and "a bait-and-switch con"/Betsy Russell, Eye on Boise. More here.
Thoughts?
---
---