Tue., Oct. 2, 2012, 8:46 a.m.
School Board Dumps PYP 5-0
A popular teaching framework at a Coeur d'Alene elementary school is getting the boot, even after hundreds of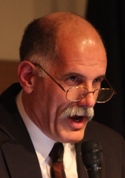 parents and residents rallied to save it. The Coeur d'Alene School Board voted unanimously Monday night to end the Primary Years Programme at Hayden Meadows Elementary School at the end of this school year. The decision came eight weeks after the board decided to eliminate the affiliated International Baccalaureate program at Lake City High School, citing low enrollment and lackluster test scores. Several board trustees said PYP furthers a philosophy that encourages students to think of themselves as citizens of the world, echoing critics who assail the program for being anti-American and aligned with the United Nations. After listening to 2 1/2 hours of passionate testimony for and against the program, several read prepared statements calling PYP a social-political philosophy that has no place in public schools/Scott Maben, SR. More here. (File photo of Brent Regan, who spoke against PYP at Monday night's meeting)
Question: What will be the repercussions from the move by the Coeur d'Alene School Board to dump Primary Years Programme now without heeding calls to proceed more slowly?
---
---