Wed., Oct. 3, 2012, 5:35 p.m.
Debate: What Did Luna Say?
Both sides are standing by their conflicting versions of what was said yesterday in the Luna-Cronin clash at the City Club of Boise, shown here, when, just after Rep. Brian Cronin's opening remarks, state schools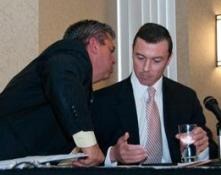 Superintendent Tom Luna leaned over to him and expressed displeasure about Cronin's remarks. This photo, taken by Dan King, contract photographer for the City Club, captures the moment. I requested the audio from Boise State Public Radio, which broadcasts City Club forums, and will broadcast this one on Saturday evening; the forum also is scheduled to air on KTVB's 24/7 channel twice tomorrow, at 10 a.m. and 1 p.m. Cronin maintains that Luna said something like, "That's the biggest piece of bullshit I've ever heard." Luna maintains he said something like, "I could not believe the rhetoric in your speech" or "I could not believe what you said in your speech"/Betsy Russell, Eye on Boise. More here.
Question: Would it make a difference to you if Luna has said (BS)?
---
---