Wed., Oct. 3, 2012, 10:53 a.m.
Panabaker Quits Senior Center Board
Dick Panabaker, after 18 years on the board of the Lake City Center, is retiring. And naturally, they're throwing a party for him, which happens to be tonight, 4-5. He'll smile and laugh and shake hands with folks sad to see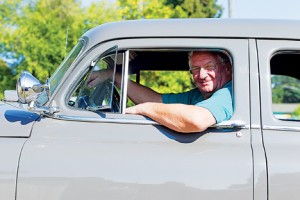 him go. And they'll swap some warm, fuzzy stories, too. But warm and fuzzy isn't the style of this blue-collar, straight-talking, hard-charging Hayden Lake man who would rather be covered in grease while restoring his beloved Nash classics than sitting in an office crunching numbers. The 71-year-old Panabaker shakes his head when he explains why, after nearly two decades on the board, he is done. It's pretty simple. The former Kootenai County commissioner no longer wishes to fight. Like other community organizations, funding is tight at the center for seniors. Always has been. Probably always will be. Panabaker wishes it wasn't that way. He's not sure of a solution. He doubts he has the drive to find it/Bill Buley, Coeur d'Alene Press. More here. (Coeur d'Alene Press photo: Shawn Gust)
Question: Should the city of Coeur d'Alene help keep the Lake City Senior Center afloat by underwriting it financially?
---
---