Thu., Oct. 4, 2012, 5:21 p.m.
Big Bird Flies Above Romney Fray
A day after the Twitterverse exploded in reaction to Mitt Romney's vow to fire Big Bird by cutting federal funding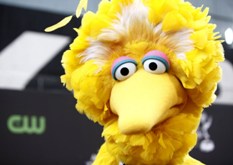 to PBS, Sesame Street declined to enter the political fray, turning down requests from TV talk shows for an appearance by the giant yellow avian. But others voiced support on social media and elsewhere, reigniting a debate about taxpayer funding of public broadcasting. One Twitter user quickly created a @FiredBigBird account and sent a manipulated photo of our feathered friend on a Depression-era bread line (caption: "This is now my life"), quickly amassing more than 10,000 followers before the account was suspended/USA Today. More here. (AP file photo)
Question: Which "Sesame Street" character would you fire?
---
---