Thu., Oct. 4, 2012, 8:48 a.m.
Burglars Steal Rings, Memories
Coeur d'Alene resident Betty Turner left her cherished jewelry at home on Monday because she was afraid to lose any of it while she spent the afternoon boating on Hayden Lake. But during the afternoon, as she enjoyed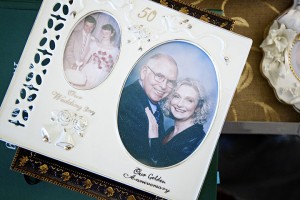 the summer-like weather, a brazen daytime burglary was taking place at her home on the 5700 block of N. Isabella Drive, just off Dalton Avenue. Turner said her wedding ring and her late husband Gene's wedding band were taken by the burglar or burglars, who also snatched a bracelet he bought her worth thousands of dollars to celebrate their 50th wedding anniversary. "If I didn't get anything back but his ring, I'd be so happy," she said. When he was going through chemotherapy, he'd always take his white-gold wedding band off and give it to her to wear. Since his death, she wore it every day on her ring finger, held in place by her wedding ring/David Cole, Coeur d'Alene Press. More here. (Coeur d'Alene Press photo: Jerome A. Pollos)
Question: Have you ever had something of great sentimental value to you stolen?
---
---