THURSDAY, OCT. 4, 2012, 8:25 A.M.
Certain Mysteries Best Left Unsolved
The latest hiccup in the quest to turn up Jimmy Hoffa fell flatter than a Keebler elf in a trash compactor. No moldy Hush Puppies or bits of decomposed leisure suit were tweezed from the dirt dug out of a backyard in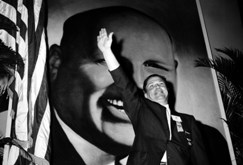 suburban Detroit. I couldn't be more relieved. The whereabouts of the missing union boss is one of America's most cherished unsolved mysteries, and I've been holding my breath ever since these snoops started digging. Frankly, I enjoy guessing where Hoffa wound up after he disappeared from outside a restaurant back in July 1975. Was he offed by a hit man and then buried unceremoniously under a freeway or sports stadium? Did the Mafia stick him under a Veg-O-Matic and then feed the pieces to the fishes off Long Island? Or is Hoffa hiding out in a rest home somewhere, playing canasta and swapping yarns with Elvis and JFK?/Doug Clark, SR. More here. (1957 AP file photo of former Teamster president Jimmy Hoffa)
Question: How many rememberJimmy Hoffa?
---
---