Thu., Oct. 4, 2012, 1:44 p.m.
Luna Reimburses Lobbyist For Lunch
After first saying, "I don't have a problem with it," Superintendent of Public Instruction Tom Luna reimbursed a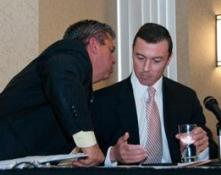 lobbying firm that represents Apple and other clients with an interest in upholding his 2011 education reforms in November. Four state staffers were part of a table of 10 at Tuesday's City Club forum on Props 1, 2 and 3 featuring Luna and Rep. Brian Cronin, D-Boise. Most of the others at the table were guests of Luna's. Two representatives of the Boise firm Sullivan Reberger Eiguren were present, lobbyist Gloria Totoricaguena and an intern who studies at Boise State. Luna repaid the lobbyists out of his own pocket, said his spokeswoman, Melissa McGrath/Dan Popkey, Idaho Statesman. More here. (Photo: Superintendent Tom Luna and Democrat Brian Cronin at City Club lunch in Boise)
Question: Did Superintendent Luna handled this situation properly?
---
---