THURSDAY, OCT. 4, 2012, 1:31 P.M.
Otter Speaks Out Vs Cyberbullying
Imagine a classroom of 25 kids — students facing the challenges of schoolwork and the awkwardness and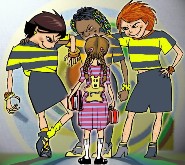 peer pressure that comes with growing up. Now, imagine 720 classrooms. If you can envision that, you have a mental picture of the pervasive reach of cyberbullying in Idaho. Each year, more than 18,000 Idaho kids receive threatening texts or messages. The smartphone that is a must-have and a connection to family and friends also makes it easier for bullies to target victims — perhaps anonymously, often from a distance. The social networking sites that provide young people a virtual gathering place also provide a stalking ground for bullies. For many adults — no matter how much verbal abuse they saw or heard in school hallways or locker rooms — this new form of bullying is more difficult to comprehend/Kevin Richert, Idaho Statesman. More here. (AP illustration)
Question: Do you consider cyberbullying among juveniles to be a problem in Coeur d'Alene?
---
---