Thu., Oct. 4, 2012, 8:16 a.m.
Richert: Why Are Teachers Leaving?
Let's first process the numbers, before we commence with the inevitable spin. In 2011-12, 1,884 Idaho teachers left the profession. Idaho had 17,851 certified teachers in 2011-12. In other words, this is more than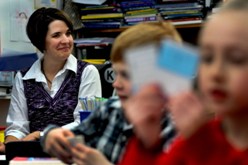 a 10 percent turnover. That should be a wakeup call. We should all at least be able to agree that recruiting — and retaining — quality teachers is the key to a quality education. Losing more than a tenth of the teaching workforce isn't how you get it done. But in the bitter debate over the future of public education, the teacher turnover numbers have, predictably, become a choice talking point. The Idaho Education Association blames the growing exodus on state schools superintendent Tom Luna and his Students Come First K-12 overhaul. Luna's office blames much of the turnover on the recession. The reasons matter, of course. And guess what? It's complicated/Kevin Richert, Idaho Statesman. More here. (2011 SR file photo of a Priest Lake classroom for illustrative purposes)
Question: Why do you think Idaho teachers are leaving -- Luna Laws, recession, personal reasons, all of the above?
---
---