Gather a group of Idaho teachers in a room and the conversation drifts predictably: "What are you doing to make this program work?" "How are you improving reading scores?" "How is that bond issue coming along?"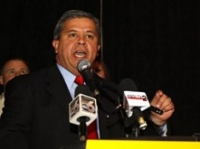 Lately, however, there's been a discordant note: "How long have you got left?" "How much longer can you stand it?" "When are you getting out?" "I can name it to the date, to the hour in fact." Is it any wonder, then, that Idaho teachers are stampeding toward the exits? Five years ago, the state saw 756 educators quit the profession. By the end of the 2010-11 year, that number spiked to 1,276.Then last year, it jumped again — 1,884, including 127 who got fired and another 143 who were laid off/Marty Trillhaase, Lewiston Tribune. More here.
Question: Do you think the decisions by the new Coeur d'Alene School Board to eliminate International Baccalaureate and Primary Years Programme from district schools will prompt local teachers to leave?