Fri., Oct. 5, 2012, 2:01 p.m.
Free Birth Control = Fewer Abortions
Free birth control led to dramatically lower rates of abortions and teen births, a large study concluded Thursday, offering strong evidence for how a bitterly contested Obama administration policy could benefit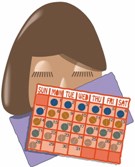 women's health. The project tracked more than 9,000 women in St. Louis, many of them poor or uninsured. They were given their choice of a range of contraceptive methods at no cost – from birth control pills to goof-proof options like the IUD or a matchstick-sized implant. When price wasn't an issue, women flocked to the most effective contraceptives – the implanted options, which typically cost hundreds of dollars up-front to insert. These women experienced far fewer unintended pregnancies as a result, reported Dr. Jeffrey Peipert of Washington University in St. Louis in a study published Thursday. The effect on teen pregnancy was striking: There were 6.3 births per 1,000 teenagers in the study. Compare that to a national rate of 34 births per 1,000 teens in 2010/Associated Press. More here.
Question: Sounds like a plan?
---
---