Fri., Oct. 5, 2012, 3:12 p.m.
IFF: Prop 1 About Union Power
I have read just about every school labor union agreement in the state and have yet to find a single one that was written to protect the interests of children, their safety and the availability of classroom supplies. I point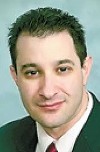 this out simply because the labor unions have released a new ad in opposition to Proposition 1. The unions are asking you to vote no using a sanctimoniously deceptive rationale for why they believe the law to be bad public policy. "Prop 1 prohibits teachers from negotiating over important things like overcrowded classrooms, supplies and student safety," says the newest ad from the Vote No crowd. From this, you should draw upon imagery of teachers in chainmail plunging their swords through the leathery chests of those uncaring, fiendish school board members and smiting the villainy from their evil beating hearts, all for the betterment of students. Great scenes for a movie script, I should think. But Prop 1 isn't about teachers fighting for students. Prop 1 is about union bosses fighting for unions. Prop 1 is about union power, nothing more/Wayne Hoffman, Idaho Freedom Foundation. More here.
Question: Is it good practice for Republicans to attack the teachers union?
---
---