Fri., Oct. 5, 2012, 1:23 p.m.
SR: Beignet's Closure Not City Fault
The closure of Beignets restaurant on Wall Street is a tragedy for the owners and the dozens they employed. And Spokane lost a small element of the "downtown experience" that sets this community apart from any other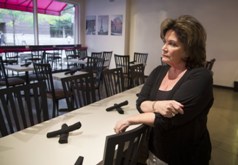 for 250 miles around. But for the owner, and many others, the "experience" too often includes an encounter with a sidewalk skateboarder, rowdy smokers, or shirtless young men loudly spouting f-bombs. Not the preferred ambiance for dining al fresco. Welcome to urban America. Every downtown has a population that, for reasons of homelessness, abuse, addiction or unemployment, coalesces where they find like company and a few services; food, shelter, the comfort of a crowd. Seattle's congregates in Pioneer Square. In Portland, Pioneer Courthouse Square is the main hangout. The behavior may be off-putting, but within the law, and therefore not a police matter/Spokesman-Review Editorial Board. More here. (SR file photo: owner Judie Sowards of Beignets)
Question: Izzit just me, or does Coeur d'Alene do a considerably better job controlling the downtown than Spokane?
---
---