TUESDAY, OCT. 9, 2012, 8:32 A.M.
CdA Mulls ITD Offer Of Old I-90
The city of Coeur d'Alene wants to study the numbers - all the different numbers - before it decides whether it will take over roughly 5 miles of East Coeur d'Alene Lake Drive. After hours of public testimony Monday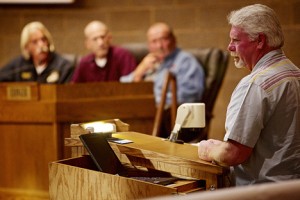 evening, and an open questions and answers forum with state and city officials, the City Council said it wants to take in the different viewpoints before it schedules the next step on deciding the old highway's fate. "We have lots of concerns in front of us," Mayor Sandi Bloem said. "Absolutely, we need to get more information on this and consider, on both sides of the fence, and we'll do that." The Idaho Transportation Department is looking to give the waterfront road away because it no longer wants to maintain it. It's offering the city $3 million to take it. The city is considering it because along with the money, it would guarantee local, not state, control over waterfront property popular with bicyclists and pedestrians as it is with motorists/Tom Hasslinger, CdA Press. (Jerome A. Pollos Press photo: Greg Delevan airs his concerns during a city council workshop Monday)
Thoughts?
---
---