Tue., Oct. 9, 2012, 9:58 a.m.
Idaho Judge Almost Fell Before Arrest
Update: Huckleberries has been told that Judge Hoff announced resignation shortly after DUI. Nominations to fill her $114,300 position are being accepted through Monday.
Third District Judge Renae Hoff nearly fell as she stepped from her vehicle after an officer stopped her for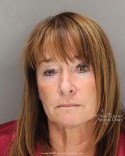 reportedly weaving on the road Aug. 25, according to a Meridian police report. Hoff's blood alcohol content on the night of her DUI arrest was .116, the Idaho Press-Tribune has learned. The legal limit in Idaho is .08. Hoff was removed from presiding over criminal cases after her arrest until her DUI is resolved. She pleaded not guilty last month and her jury trial is set for Dec. 4. The Meridian Police Department report on Hoff's arrest says that she had "glassy bloodshot eyes and the odor of an alcoholic beverage coming from her" when she was stopped at about 1:21 a.m. near Ten Mile Road and Acarrera Court in Meridian/Mike Butts, Idaho Press Tribune. More here. (Police mug shot of Judge Hoff courtesy of Idaho Press Tribune)
Question: If Judge Hoff is found guilty of DUI, should she be forced to step down from the bench?
---
---