Wed., Oct. 10, 2012, 2:27 p.m.
Kennewick Man Not Native American
Not only was the ancient human known as Kennewick Man not Native American, he was not even from the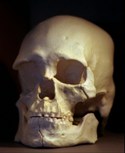 Columbia River valley where his bones were found, according to the scientist who led the court battle to study his remains. The more than 9,300-year-old skeleton is at the center of a yearslong rift between scientists who want to examine it and tribes who claim it and are seeking to have it reburied. On Tuesday, Columbia Plateau tribal representatives invited Doug Owsley, a physical anthropologist at the Smithsonian Institution's National Museum of Natural History, to meet with them and discuss his findings. Owsley said isotopes in the bones indicate Kennewick Man was a hunter of marine mammals, such as seals/AP. More here.
Question: How would you like it if one of your ancestors proved to be a fraud?
---
---