Thu., Oct. 11, 2012, 4:14 p.m.
'Idaho 100' Spurs Debate
This image provided by Randy Stapilus shows the cover of the new book, "Idaho 100: The people who most influenced the Gem State" by Randy Stapilus and Marty Peterson. "Idaho 100" is intentionally provocative, meant to spur debate, while reminding us from whence we've come as we approach next year's territorial sesquicentennial. (AP Photo/Courtesy of Randy Stapilus)
Idaho is one of the few states in the nation where a significant number of people can sing the state's song. This is due in part to people like veteran political journalist Randy Stapilus and his co-author, Marty Peterson,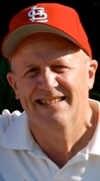 the long-time director of the University of Idaho's governmental affairs. Together they have produced an entertaining book listing the 100 most influential people in the 150 years since Idaho became a territory. The list is fascinating both because of the diversity of characters, the famous (J.R. Simplot #11, Frank Church #14, Joe Albertson #19, Ezra Taft Benson #27, William E. Borah #69)as well as a few infamous ("Big Bill" Haywood #52, Richard Butler #88), and the well-known (Robert Smylie #18, Jim McClure #23, C. Ben Ross #47) as well as the truly obscure(Wetxuwiis #10, Lafayette Cartee #25, Pinckney Lugenbeel #34). It reinforces an old notion that it is people who make and shape history, not external forces or tipping-point trends. The book should be required reading as a supplement to any Idaho history textbook/Chris Carlson, Carlson Chronicles. More here.
Question: Is this a book you'd like to read?
---
---