A committee will meet today to decide whether to recommend to the Legislature to increase the speed limit of heavy trucks on freeways from 65 mph to 75 to match other traffic. The group, comprised of legislators,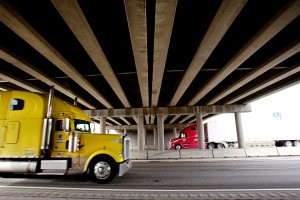 trucking, transportation and law enforcement reps and the American Automobile Association (AAA), will examine during a meeting in Boise how safety and traffic flow are impacted by the speed limit difference. The 2012 Idaho Legislature requested the discussion after the introduction of Senate Bill 1229, which would have increased the speed limit for heavy trucks to the same speed posted for other vehicles. The proposal would affect tractor-trailers, 10-wheel vehicles and semis and only applies to Idaho's four interstates. Idaho Senate Transportation Committee Chairman Jim Hammond, who is part of the working group, will conduct the meeting/Brian Walker, Coeur d'Alene Press. More here. (Coeur d'Alene Press file photo: Jerome A. Pollos)
Question: Do you want Idaho to increase truck speeds from 65 to 75 mph on our interstates, like I-90?