FRIDAY, OCT. 12, 2012, 4:45 P.M.
Arrests Made In County Burglary Ring
Idaho law enforcement officials say they have made arrests connected to a daytime burglary ring that was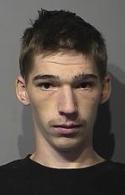 funding a group's drug addiction. More than 80 residential burglaries have been documented in Kootenai County since August. Some cases involved suspects kicking down doors and even fitting through the confines of dog doors to get into homes. Coeur d'Alene Police started cracking down on the ring Tuesday with the arrest of 20-year old Brad W. Whisner (pictured) on suspicion of burglary. He's considered an accomplice of William E. Fesmire, 21, who is suspected of burglarizing homes in the Echo Glenn Lane area of Coeur d'Alene/Nicole Hensley, SR. More here.
---
---