Fri., Oct. 12, 2012, 8:21 a.m.
Rathdrum Sheep Adopt Stray Cat
Friends and family noticed it first, during a party at the Rathdrum home of Colleen and Jerry Flowers. While watching the couple's herd of sheep glide back and forth inside a spacious pen on the Flowers' 5-acre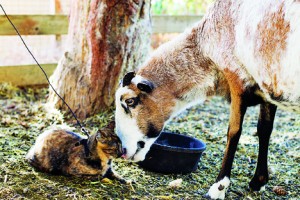 property, some of the party guests saw something strange. Among the sheep's legs and hoofs, there were four much smaller, daintier legs moving about the pen. "There's a cat herding those sheep," said a surprised Darci Austin, one of the partygoers. For hours, the tiny cat ran around the pen with the larger animals, a dozen Barbados sheep that look like goats because they've shed their hair. When the herd stopped moving, the cat would continue winding its way around the sea of spindly sheep legs, often rubbing up against them/Maureen Dolan, Coeur d'Alene Press. More here.
Question: Have you had examples in your family of mixed animals adopting one another?
---
---