Mon., Oct. 15, 2012, 8:21 a.m.
Christie: Nilson & Co. Have Agenda
Christie Wood (re: Judy & Ron chat at NIC event): udy is a class act. I wish to have her grace someday. I am hoping she will eventually rub off on me. I tend to call people on being insincere so it is unlikely you will see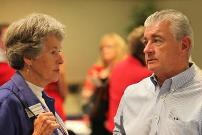 me chatting it up with Ron. I say this but wish to take nothing away from the credit he deserves for all of his charitable contributions in the community. But I believe Ron has a clear agenda to change the direction of the college and that is why he is running. The contrast is when I ran for the board it was to give back to the community, and work on behalf of a college that brought such positive change to my life. I am deeply concerned that NIC has become the next pawn in the Reagan Republican chess game. Nilson, Mathews and Banducci are their hopeful "game changers." I am well aware that we have many talented citizens that can fill our board positions. None of us expect to be lifetime trustees. In this election however, we have candidates running that I believe have a do harm agenda all in a quest for power, and to promote their ideology. More below.
Question: What do you think of Christie's comments that the three Reagan Republican-endorsed candidates have an agenda to change North Idaho College?
The questions Mic was asked by the RR's absolutely startle me. They asked about his support in ending tenure of our long-time instructors in order to control the curriculum and then only teach American curriculum. Do they think NIC is a high school? (so sad about the direction of SD271) Our students are working adults. The average student age is 24 to 30. They are not going to be told what they can study, and not study. Our faculty are top notch in their field. They will not give up academic freedom nor should they. We have a rich cultural environment that includes a Native American club and a Gay, Straight Alliance club. We have a long history of being the local voice for human rights and diversity. These are areas of study and inclusion that need great protection in a free society.
I have many other concerns about how the budget would be redirected away from academic programs under the leadership of Nilson. He was adamantly opposed to the Ed Corridor in the last election and vowed to stop it in its tracks if he were elected. The work on the infrastructure is now complete. The real work in bringing advanced technical and academic programs to our community is just beginning. Our college is successful because we have a balanced approach in serving our students. I believe Armon, Meyer and Hagenson will continue in this balanced approach.
---
---