Mon., Oct. 15, 2012, 8:16 a.m.
Huckleberries: No Gas, No Problem
Another week, another lake rescue story from North Idaho, although not as dramatic as the one in which a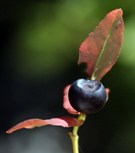 father and a son capsized their sailboat in high winds on chilly Lake Pend Oreille. In fact, Shirley Thagard could think of no better place to be stranded on her pontoon boat on a sunny day than Hayden Lake. At 10:30 a.m. Wednesday, Shirley was on a final tour of the lake when she discovered the gas gauge wasn't accurate – empty happens before the needle gets to "E." So Shirley did a lemons-to-lemonade thing and "had a wonderful time sitting in the middle of the lake in the sun, perfectly still water, looking at the brilliant colors spotting the surrounding mountains, waiting for someone to tow me to the dock." That someone was Hayden Lake Yacht Club member Steve Boots. There's probably a moral to this story. But let's enjoy the afterglow of our wonderful fall/DFO, SR Huckleberries. More here.
Question: How do you react when you car or boat breaks down or runs out of gas?
---
---