Tue., Oct. 16, 2012, 8:15 a.m.
School Board Votes To Sell Person Field
Originally posted at 9:30 Monday
With little advance warning, the Coeur d'Alene School Board voted 3-1 to sell Person Field tonight, prompting Mayor Sandi Bloem and City Administrator Wendy Gabriel to make an unplanned visit to the meeting. The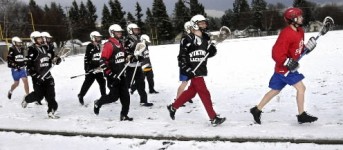 board also decided to take no position on Propositions 1-3 (the Luna Laws), although all trustees expressed support in favor of the ballot measures that are strongly opposed by the teachers throughout Idaho. As reported by Christa Hazel for Huckleberries, Trustee Ann Seddon voiced reservations about the decision to sell the district's 3.7-acre part of Person Field at 15th & Garden with little advance notice other than an agenda item that read "disposal of real property" -- and cast the lone vote against the proposed sale. Seddon wants the city to step up its efforts to maintain the green space as a park. At the end of the four-hour meeting, City Administrator Gabriel said the city would continue working to keep Person Field as a city green space. Mayor Bloem agreed with that comment. You can read Christa Hazel's complete thread covering the School Board meeting here. (SR file photo: A high school lacrosse team takes a lap around the track at Person Field in the snow)
Question: Should the city buy Person Field and try to preserve it as a park?
---
---