Tue., Oct. 16, 2012, 2:20 p.m.
School District Wants To 2X City Cost
The relationship betwen the Coeur d'Alene School District and the city of Coeur d'Alene was souring even before the decision by the school trustees to sell its part of Person Field last night. On Aug. 2, Superintendent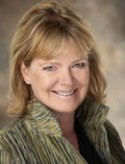 Hazel Bauman, pictured, and finance officer Wendell Wardell informed the city by letter that the district was going to more than double the fee charged to the city for recreational use of school facilities, from $30,000 to $75,000. The letter said: "The district's maintenance director calculated the district's current costs for the jus-ended fiscal year on the total of 11 facilities used by city at over $65,000. You can read the entire letter here. In response, on Sept. 6, Recreation Director Steve Anthony wrote that the city has reimbursed the School District $923,000 since 1993 to enlarge gymnasiums and provide amenities (bleachers, scoreboards, volleyball equipment, restrooms and storage) for school district and city recreation activities. Also, Anthony said, the city allows the school district to use school district to use its facilities (i.e., McEuen Field, Famsey Park, Tubbs Hill) at little or no cost. You can read Steve Anthony's response here.
Question: Should the School District proceed with plans to more than double the cost to the city for using school facilities?
---
---